Welcome to my Weird Interests and Experiments page. The Pandemic presented me with an opportunity to spend time actually enjoying the learning process. This page will be for all my interests, the new skills I'm learning, and how I'm making the "new normal" the best normal it can be! So if you like to garden, cook or exercise, this is probably the page you want to check back on regularly!
Diet and Exercise
From most of the pictures of me on this site, you'll conclude I'm a short, husky lad. I've been overweight for virtually all of my life. I competed in one bodybuilding competition where I took off close to 35 pounds in 3 months, but it all came back. The pandemic, especially lockdown, gave me a chance to get back on track. Below is a little slideshow to show you how much I changed between March 1 and August 31, 2020. And I ain't going back.
Interests
For a number of years, I have sponsored rats. First a mine sniffer, then a tuberculosis finder, and now back to a mine sniffer.

And it turns out that one of the rats I sponsor has been awarded a bravery medal!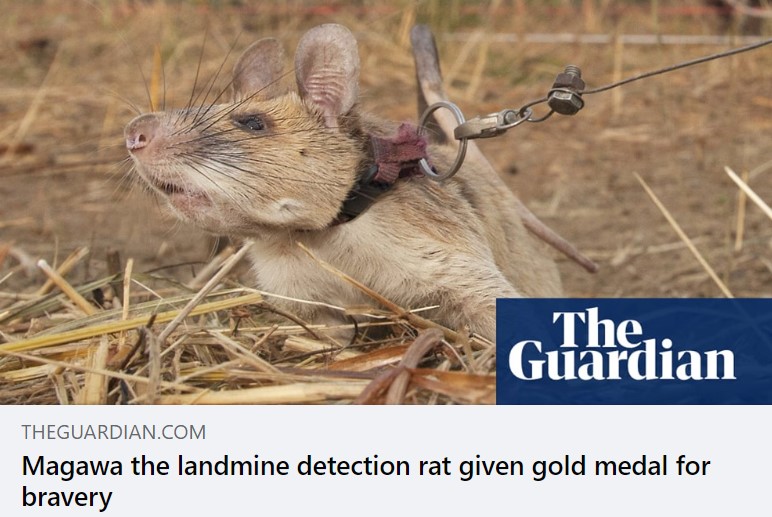 Diet and Exercise
Now I'm not doling out exercise or nutrition advice, because I'm not an educated, registered professional in either of those fields. However, I'm just going to tell you some of things I've done, and maybe they will work for you too! PS, you undertake all of this at your own risk, and should always consult with your doctor before undertaking any diet or exercise regimen.
Anyhoo, I follow what I would describe as "modified keto". A very low carb diet, but not overly stringent. And of course, I miss bread. I have it once a month, and it has shifted slowly into the dessert menu of my life. However, there are a ton of fake breads out there that do a grand job.
Although I am a fan of chaffles (I'll do an entry on those later). The real game changer has been this 2 minute Almond and Coconut flour English Muffins. You can find them at the address below.
https://www.wholesomeyum.com/recipes/two-minute-toasted-english-muffin/
I make my own pesto, so I throw a tablespoon of that into the above recipe. But I have no doubt there are a ton of different spices or even cheeses you might be able to add to the mix.
And the whole reason I started down this fake bread rabbit hole is because of a friend who loves fast food breakfast sandwiches. So you could stack ham, egg and cheese on this keto English muffin, and still stay on track!